Compact Excavator Attachment for Maintenance Mowing: "SLASHBUSTER"® XL 460
Standard shroud opening and flail blade.

The XL 460 maintenance mower has blades with free swinging tips that swing (or "flail") back to absorb the impact of larger material rather than stalling or damaging the blade. This flail blade design makes the XL460 attachment an excellent performer on compact (3-10 ton) excavators.
Featuring a 46 inch tip-to-tip cutting swath the flail mower blades rotate at up to 800 rounds per minute making this model is most effective in lighter material less than three inches in diameter. Although the XL460 has the capacity to occasionally mulch larger material it does not have the same capability of our larger models mounted on larger excavators.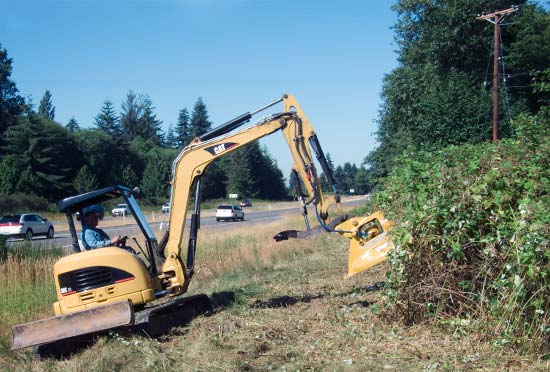 XL 460 mounted on a Caterpillar 305 CR excavator, mulching blackberry bushes along fence line. This excavator's 16.8GPM hydraulic flow powers the XL 460 so well that brush of this size provides little to no resistance.
With a standard automatic wire shear to help avoid tangles with abandoned wire and a rotating hub debris guard to help prevent contamination of the bearing housing, the XL460 is a durable yet lightweight (750 to 850 lb) brush cutter with triple-welded T-1 steel construction.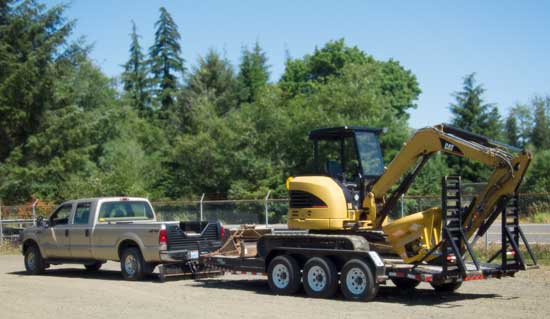 Loaded up and ready to go, the XL 460 on a small excavator is light enough to be hauled by pickup truck
Simple regular maintenance such as blade sharpening and daily greasing is all that is required to ensure years of productive service on your compact excavator.
Adaptable to some backhoes. Please call for compatibility.

Brochure
Contact us today to discuss your application and request a quotation.