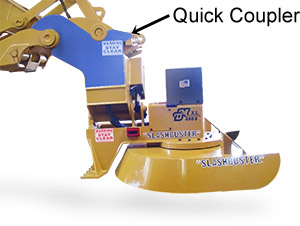 Here the custom integrated quick coupler is highlighted blue. "SLASHBUSTER"® XL 480S brush cutter with tilt mount on a CAT 320 excavator.
Custom integration of a quick coupler to fit any of our excavator attachments is possible except for brush cutters with third booms (designated by model names ending in "B").
Note that D&M Machine does not manufacture the quick coupler or mounting plate that will be welded to the attachment. They must be supplied by the customer or sourced from a coupler manufacturer.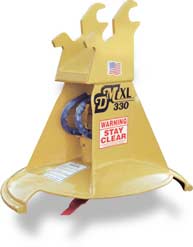 XL 330 brush cutter for mini excavators shown with quick coupler installed in place of mounting pins.
Compact excavators with quick couplers are a smart choice to increase the flexibility and ease of use of your machine. Their relative cost is much lower because they are not designed for the the massive forces of a full sized excavator.