SG240 Stump Grinder Attachment:
Backhoe or Excavator Mounted
Expand the capabilities of your backhoe with an SG240 stump grinder. Patented guide cones make stump removal easy by helping prevent stalls of the cutting wheel. Grinds below soil level by digging, raking and trenching with the double heel rack. The cutting teeth are safely enclosed in the shroud, providing more protection than open designs.
SG 240 Brochure 135k


Safe, easy operation
Low operating cost, long life carbide stump grinder teeth
Versatile rack for digging around stumps & grinding below soil level
Direct drive,no belts to wear out
No plumbing required - uses your auxiliary hydraulic circuit
Installs in minutes
Commercial grade - ideal for equipment rental companies
---
SG 360 Stump Grinder Attachment:
Excavator Mounted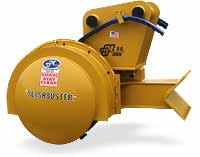 The SG 360 is a larger model for mounting on any common-sized excavator, and may be integrated with existing hydraulic thumbs. It is the same design as the smaller model but with a 36 inch wheel instead of a 24 inch wheel to take advantage of more powerful excavators
SG 360

Brochure 160k
Compatibility table for matching to appropriate carrier:
Excavator Size, Tons
tractor,
loader, backhoe
ready
Model
Motor
Hydraulic
Circuit
10-13
14-16
18-20
20+
SG 240
Excavator Aux.

1

SG 360
Excavator Aux.