Utility vegetation management programs utilize "SLASHBUSTER"® equipment to clear land under transmission lines. Regular vegetation treatment provides access for line repairs and helps prevent the number one cause of power supply disruptions: Tree blow down.
| | |
| --- | --- |
| Mounted on a 200 class excavator, the HD 480B brush cutter with patented third boom allows contractors to cut a massive seventy foot swath. This amount of reach skyrockets productivity by moving the brush cutter to the vegetation instead of the whole machine. With no wasted back-and-forth carrier movement the contractor is able to finish jobs faster and underbid the competition while lowering soil disturbances. | |
| Mounted on an excavator with a self leveling cab, the HD 480B can navigate steep terrain such as this 60 degree slope on a cross country power line management contract. Moving the carrier on slopes like this is time consuming making the extended reach of this model is an obvious advantage. | Maintaining a 60 percent slope |
Mechanical treatments of the past caused vigorous regrowth because their high speed blades made clean cuts that effectively pruned vegetation. This led to the need for frequent retreatment and increased cost. "SLASHBUSTER"® low-RPM mulching disks crack stumps, which has been shown to reduce the frequency of retreatment by either killing the plant or decreasing plant vigor.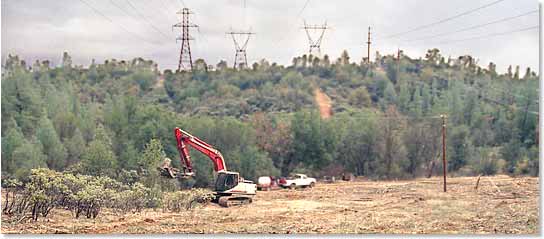 Mulching manzanita shrubs under power lines