Flood Control Equipment in Drainage Management
Vegetation encroachment issues are central to any flood control program and inexpensive, low-impact treatment is key to success. Slashbuster® attachments on long reach excavators are providing flood control disticts all over the U.S. with a new flood control equipment solution that saves money, property and lives.

"...a marvelous piece of equipment which is aiding tremendously in our flood abatement program."



-Birmingham Alabama's mayor Bernard Kincaid in his January 2002 state of the city adress.

Flooding events are magnified when dense vegetation slows the water flow . To remedy this, the operator simply shreds trees and vegetation as they stand, then rakes the resultant debris high above water level to prevent it from entering the channel. Soil and seed bed disturbance is minimized by walking the equipment over wooden pads as seen in the second image, and the root systems of mulched trees remain in place to stabilize the drainage bank.

"SLASHBUSTER"® HD 422 mounted on a fifty-foot long reach excavator.

Historically, flood control projects would bulldoze encroaching vegetation to while a dragline scraped the remaining debris from the channel and its banks. While this control method was efficient, its side effect was bank destabilization, increase in sediment load to the waterway and an obliteration of vegetation cover. Because of these concerns, new flood control equipment was sought and the "SLASHBUSTER"® was found.
---
Integration with Marsh Buggy Carriages for Amphibious use
Maintaining vegetation along drainages can be difficult with a standard excavator, several companies manufacture aftermarket "marsh buggy" undercarriages that float on sealed pontoons for use in swampy areas, work on otherwise unreachable canal vegetation - or on dry land just like a regular excavator.
| | |
| --- | --- |
| Before: "SLASHBUSTER"® XL480S mounted on Deere 85G mini excavator | After: Same excavator and brush cutter, now with marsh buggy undercarriage and powerpack installation,for amphibious operation |
| | |
Pictures above and video below courtesy of Wetland Equipment Company, Inc. Watch an Amphibious Excavator in operation with a "SLASHBUSTER"® brush cutter :
---
Rehabilitating Municipal Drainage Systems:

This before and after picture shows a neglected residential drainage system cleared and dredged using one man and one machine; the "SLASHBUSTER"® XL 480S. This model features a hydraulically operated rotating shroud that allows maximum control of mulched debris.

Watch a video of the XL480S raking and removing debris from a drainage system with its integrated material handler. This application is also a good example of how our optional tilt mount allows the operator to match existing slopes and contours.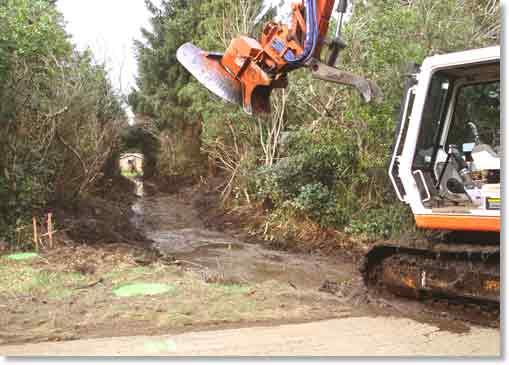 Here city engineers needed a new drainage through a previously unutilized right-of-way. The XL480S (mounted on a small twelve ton excavator) cleared the vegetation and dug out this new drainage channel to spec in just a few hours.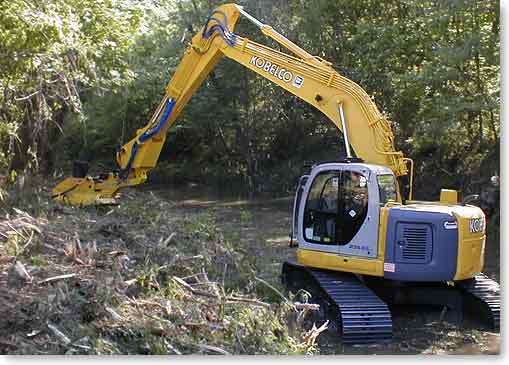 Kobelco 235 excavator mulching drainage vegetation using an HD480D brush cutter w/ tilt option.