Wildfire Fire break / Fire Line Construction and Road Safety
Existing roads are often used to create a fire break, conventionally constructed by a hand crew clearing the area with chain saws and feeding small diameter vegetation into a chipper. Additional equipment such as a feller-buncher may be required to move larger diameter stems to the other side of the road.
The same roadside fire break can be constructed with one "SLASHBUSTER" ® operator shredding trees and other vegetation in place to create a mulch with low flame length characteristics. Larger trees can also be felled, picked up with its integrated material handler and placed on the opposite side of the road.
What had before required a hand crew with upwards of 20 people can be effectively be accomplished with one person and one machine:
Freeing up wildland firefighters for other supression activities
Reducing worker exposure to chainsaw operation, smoke inhalation and falling debris
Reducing costs, allowing those funds to be better appropriated
Increasing fire break production rates, allowing backfires to be started more quickly if prescribed and ultimately
Cross-country fire line construction
The "SLASHBUSTER"® is another tool to help implement minimum impact suppression tactics for fire line construction:
Dozers are typically used in fire line construction to scrape away all organic matter down to bare mineral soil with its front-mounted blade. While effective, the drawback to this treatment is its inherent destructive nature and subsequent habitat, soil and erosion rehabilitation costs - approximately $1500 per acre.

Biscuit fire, 2002. Click to enlarge

These fire line rehabilitation costs and related ecological impact can be reduced considerably when "SLASHBUSTER"® equipment is used to supplement a dozer lines, minimizing the area of exposed mineral soil and subsequent needs for restoration.
Fire line construction in pre treated areas
See how a "SLASHBUSTER" pre treatment in Manzanita dominant wildland helped in fighting the Squire Peak fire.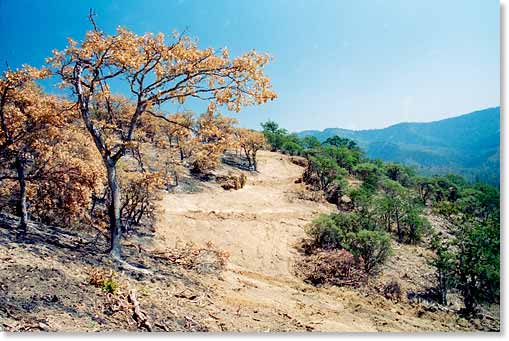 Road Safety
Vehicle accidents are a pervasive risk to wildland firefighters as narrow, winding roads throughout our forest lands are often overgrown with small diameter vegetation, creating hazardous blind curves.
In addition to helping with fire lines and fuel breaks, "SLASHBUSTER"® equipment is used to open up sight lines on roads for safer transport of wildfire personel.
Cost differences for some treatments are estimated in GH Ranch's "Slashbusting for Forest Fuels Reduction" brochure. (PDF, 480K)