Due to customer demand, we have developed a new fixed-carbide bit option that is interchangeable with the standard "S-7" tooth and holds up well in rocky soils.
No need to sharpen, reducing maintenance time and eliminating the need for a hauling a generator to a remote location just to power an angle grinder.
Impact resistant, the carbide formulation has been optimized for maximum durability and the carbide bit shape is designed to deflect on impact with rock and resist shattering. For pocket areas on the mulching disk that may contact rock on a regular basis, this is a desirable option and placement on disk bottom is ideal.
Wildfire Safe, can be used in areas where grinding is banned.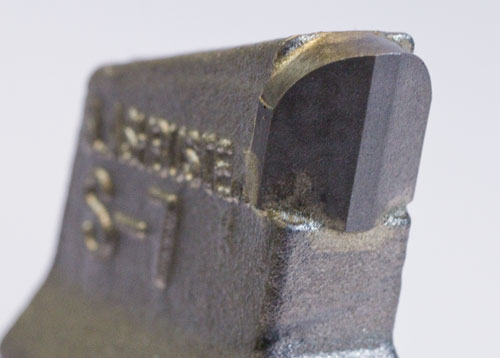 Continue to use once the carbide bit on the leading edge has reached the end of its service life, the remaining metal can be dressed to original angles and re-

purposed

as a standard re-sharpen able "S-7" tooth. This extends its service life and reduces operating costs. Or simply replace if desired, it is completely up to you.
Consider our new replaceable-carbide bit holder with replaceable carbide bit in areas where impact with rock is less likely. It has a more aggressive cupped design that is more productive but as a trade-off is more susceptible to impact damage with hard rocks suck as granite (users report occasional impact with softer rocks like limestone or concreted usually cause no significant damage). Placed on the outer edge of the wheel pointing outwards and upwards the replaceable-carbide bit option may be a more desirable option for faster production rates and a better looking end product.
Insert and Remove the fixed-carbide bit option using the same method as our standard S-7 tooth: requiring only safety glasses, hammer and a flat end punch. Simple drop-in replacement that with practice can be done in less than a minute.
Note: feel free to mix and match our " S-7" tooth options as desired for your job but to avoid imbalance issues it is essential each type tooth be mounted in pockets on opposing sides. If vibration occurs for any reason, halt operation and investigate potential causes. When root cause is found, correct the issue before proceeding with operation. Among other things, excessive vibration will reduce bearing lifespan significantly.